Spirit Airlines is a Florida-based air carrier that safely operates in the Americas. For the passengers. it becomes imperative to check the safety measures of this carrier before boarding a flight. The airline takes such concerns on a serious note. Aims to serve its valued fliers effectively, one can understand why is Spirit Airlines safe.
In relation to this carrier, there have been some unfortunate incidents on board. But since then, the service has improved. This is expected to help the airline get better ratings. Notably, the air carrier was rated high in the recent past for its secure yet on-time arrivals and departures.
With more adherence to prescribed security measures, the low-cost airline is expected to do even better in the coming days.
Is Spirit Airlines Safe to Fly with?
Indeed, Spirit Airlines is largely safe for the fliers. With a host of measures, as directed by certain reliable bodies in the aviation sector, the airline takes passenger safety on a priority basis. With several clear onboard instructions for travel, the carrier is committed to ensuring that its passengers are safe.
What Are Spirit Airlines Safety Records?
To talk about Spirit Airlines safety record, there have been a few incidents in its operational history. As recently as March 2023, an ignition on a battery caused the airline's flight to opt for an emergency landing.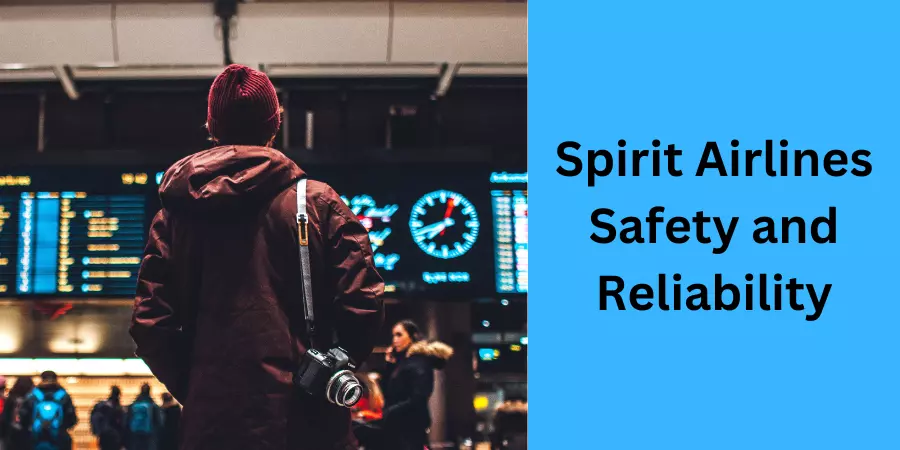 In another incident at Hartsfield-Jackson Atlanta International Airport, the gear wheels caught fire in July 2022. According to records, no one was injured in that incident. These incidents called for better security measures on the part of the carrier.
Spirit conforms to safety measures, in compliance with the aviation authorities.
Since the last incident, there have been improvements in the safety standards.
The airline has incorporated more safety arrangements to improve its record.
Crew members have been trained to address any security issues while on board.
Is Spirit Airlines Safe Domestically and Internationally?
Barring a few incidents, Spirit Airlines is considered safe, both domestically as well as internationally. It provides support to unaccompanied minors and restricts their flight accessibility to domestic locations. The air carrier takes into account other security arrangements too.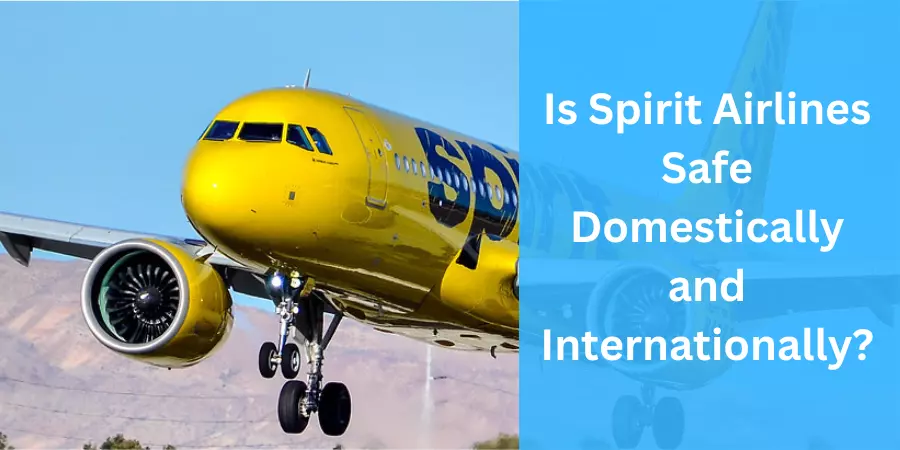 Keeping Spirit Airlines' safety into account, these measures are totally in compliance with aviation laws.
Restrictions on carrying items of certain types, such as lithium batteries, are observed.
Although Spirit Airlines isn't bad, it has strict baggage rules to ensure safety.
As a rule, this airline's website explicitly says that it won't allow smart luggage.
Lithium batteries are banned as they can put passengers at risk.
For safety purposes, the Samsung Note 7 is not allowed when flying to the US.
Passengers with hearing impairment have to inform the crew about the condition for their safety.
How is Spirit Airlines Safe and Reliable?
For different reasons, it becomes important to understand how safe is Spirit Airlines and whether it can be relied on. This airline has proved to be one of the most reliable air carriers when it comes to timely landings and take-offs. This makes it a reliable option to fly with, especially in the United States.
In October 2018, as many as 89% of the aircraft from Spirit Airlines were right on time, according to an FAA report. As the carrier continues to operate, it aims to maintain this aspect.
Are Spirit Airlines Safe and Certified?
Spirit Airlines are mostly safe and certified by the FAA, a US Government body dedicated to aviation. This air operator was also honored with the "Aviation Maintenance Technician Diamond Award of Excellence" by the same government organization. Interestingly, the airline earned it for 4 straight years. Hence, not only is Spirit a good airline but quite secure too.
The award was presented to the airline in 2022.
It indicated the completion of training courses developed by the Federal Aviation Administration.
These courses were attended by the maintenance technicians of the carrier.
How Safe is Spirit Airlines to Fly for Unaccompanied Minors?
For children flying alone, Spirit Airlines is safe to a fine degree. Also called unaccompanied minors, without any companion, they can securely fly on domestic flights.
These flights should include destinations such as the United States Virgin Islands and Puerto Rico. To ensure the safety of Spirit Airlines unaccompanied minors aged 5-14 years, travel is prohibited on transit flights to these places.
The carrier does not allow unaccompanied minors to travel to international destinations.
Spirit Airlines makes sure that young passengers are taken care of.
They are also provided with safely sourced snacks on board.
When UMs are handed over after arrival, guardians' IDs are verified.
What are Spirit Airlines Safety Measures During Emergencies?
Spirit follows different safety measures in the event of an emergency. This is meant to improve Spirit Airline safety to the possible extent. As part of these, the airline follows standard procedures so that the emergency door can easily be accessed by the crew members to open it for the passengers to safely pass through it. This is particularly helpful in the event of unanticipated fires.
Some other safety measures exercised by this operator in case of emergency include:
Musical instruments cannot be kept on the emergency exit seat.
These instruments must also not block signs such as:

"NO SMOKING"
"SEAT BELT"
"EXIT"

Accessories like wired earphones must not prevent easy access to the emergency door.
The airline has trained crew members on board to promptly act during emergencies.
It also has lifejackets in case of a forced landing on the water to prevent any casualties.
How Safe is Flying with Spirit Airlines Fleet?
Flying with the current fleet of Spirit Airlines is generally safe. This airline retires old aircraft based on their operating conditions and years in service. This is integral to ensure Spirit safety. Its fleet has the Airbus A320neo as well as the A320 family. The company has plans to have 293 secure airliners by the year 2027.
The current fleet of the airline includes:
Airbus A319 is part of Spirit's fleet. It has never recorded any fatal accidents.
The airline will retire this aircraft by 2025 to keep its fleet updated.
The fleet has Airbus A320neo aircraft, having more fuel efficiency compared to previous ones.
In 2023, the airline decided to switch an order of 31 Airbus A319neo aircraft to A321neo.
With A321neo, the airline is expected to operate more securely between 2025 and 2029.
What is Spirit Airlines Safety Rating?
It is observed that the safety rating for the US-based airline combines positive and negative feedback. This determines the effectiveness of Spirit Airlines' safety practices as experienced by its passengers. In most cases, a passenger selects his/her preferred flight based on these ratings. Therefore, it becomes imperative for the airline to efficiently work on addressing the inflight security issues.
This carrier has received between 3-6 stars out of 7 for its secure operations.
These ratings have been given by different bodies.
As far as recent ratings are concerned, the airline was ranked as the 2nd safest air carrier globally.
It has won praise for its recent improvements in terms of passenger safety.
The airline has received multiple awards for its technical maintenance.
Is Spirit Safe Despite Being Cheap?
Regarded as one of the cheapest airlines across the Americas, Spirit Airlines is also considered safe in general. However, there are certain issues, such as ignition on batteries and wheels, that can be avoided by setting up strict regulations. Going into compliance with the rules set by aviation authorities such as the FAA can further help.
Why is Spirit Airlines cheap and safe at the same time can further be learned:
As per some sources, the airline invests in important arrangements to ensure passenger safety.
Despite being low on cost, it was honored by the FAA for its technical maintenance
By imposing cutbacks on luxury services on board, the airline tries to reduce its airfares.
What Are Spirit Airlines Safety Reviews?
The safety reviews regarding Spirit Airlines have been generally mixed in nature. This is an important factor to consider because, when it comes to buying a service such as a flight, reviews of the same can help the passengers decide whether to opt for it or not.
A few years ago, Spirit received positive reviews for being on schedule on an FAA report.
It focuses more on security after some incidents caused concerns in the minds of passengers.
The airline gives special attention to inflight hygiene.
It also has set rules to protect unaccompanied minors using these flight services.
On-time landings have enabled passengers to reach their destinations without any risk or delays.
Winding Up
As it can be observed, safety is one of the factors of paramount importance. Spirit Airlines makes efforts to improve its safety measures on board. In the time to come, the airline can serve its passengers better by religiously adhering to the guidelines set by authorized aviation bodies.
FAQs
Is Spirit Airlines a safe airline?
Yes, Spirit Airlines is safe to travel.
Is Spirit a safe airline to fly with pets?
Indeed, it allows small pets to be securely carried on domestic flight routes.
Is Spirit Airlines safe and reliable?
Spirit Airlines is absolutely safe and can be relied upon for domestic/international routes.
Is it safe to fly Spirit Airlines for unaccompanied minors?
Although unaccompanied minors are allowed to travel domestically, their security is assured.
How safe is flying with Spirit Airlines?
With standard safety measures for all the people on board, it is safe to fly with Spirit.
Is it safe to fly with Spirit Airlines with Samsung Note 7?
No, the carrier doesn't allow its fliers to carry Samsung Note 7 on board.
Is Spirit Airlines safe and reliable during emergencies?
The airline follows security measures recommended by the FAA and is reliable in emergencies.
Is it safe to fly with Spirit Airlines with smart luggage?
No, passengers on Spirit aren't allowed to carry smart luggage because of safety concerns.
Is Spirit safety record good?
Except for a few incidents, the safety record of Spirit Airlines is good.